After the responsibility of the Board of Park Commissioners was expanded to encompass all public greens and squares in Buffalo in 1886, the Board sought designs for several new small grounds from Frederick Law Olmsted. In April 1887, he submitted the plans he had developed, including designs for Day's Park, which is situated between Allen and Cottage streets, with Hudson Street to the north, and Maryland Street lying south of the site. A street of the same name encompasses the park; presently connecting only with Cottage street, originally it also connected with Allen street at its junction with Wadsworth street. The park is named for a wealthy early settler who had established the city's first brick kiln, Thomas Day. Day gave the land to the city in 1859, stipulating that the site be used solely as a park which would bear his name. (Day, we might add, was able to add to his considerable fortune by subdividing and selling the adjacent land as building lots facing the new park.)
Olmsted's Day's Park plan provided for "a long plat of turf studded with trees, with a fountain in the center…" An unusual feature was the incorporation of a circle of 75′ diameter at the southerly end of the site, in front of an elementary school which occupies the northwest corner with Cottage Street. Graveled areas of 12′ in width ringing the circle and 24′ between the circle and the main plat were provided to allow a play area for the school children without allowing their rough usage to destroy the turf of the main park. The fountain was also an uncommon feature for an Olmsted-designed park in Buffalo, and at the time the only one specified by him for a Buffalo site. It was not until the late 1890's with his firm's designs for Riverside and Humboldt parks that another Buffalo Olmsted park had such an amenity. (His suggestion of one for Cazenovia Park in 1893 was not implemented.) The original Day's Park fountain, however, was removed from the park in 1923.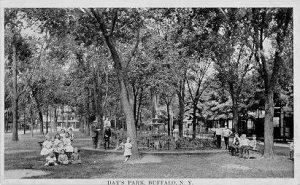 Day's Park was extensively restored in 1989 and 1990 as a result of the efforts of the neighboring residents through the Day's Park Block Club. To increase safety, a concession to the automobile era was made and the outlet of Day's Park to Allen Street was closed. The circle at Cottage Street has been removed, but the fountain, surrounded by a wrought iron fence in the same manner as the original, was restored as a centerpiece of the delightful little park. The project cost the city $59,000. However, thieves masquerading as city workers stole the fountain in 1995 and it was not until 1999 that funds became available to again replace it. This time it was welded, not bolted, together to ensure that it continues to serve the park. Aside from these small changes, Day's Park very much remains the way Olmsted had envisioned.